Cat Co beach is a large beach and separated by a small range of mountain. With the white sand and the blue warm water, it is a great place to lounge around for the day. The beach is about 1 km southeast from Cat Ba town over a steep headland. The visitors can walk to the beach or ride a motorbike to get more experience.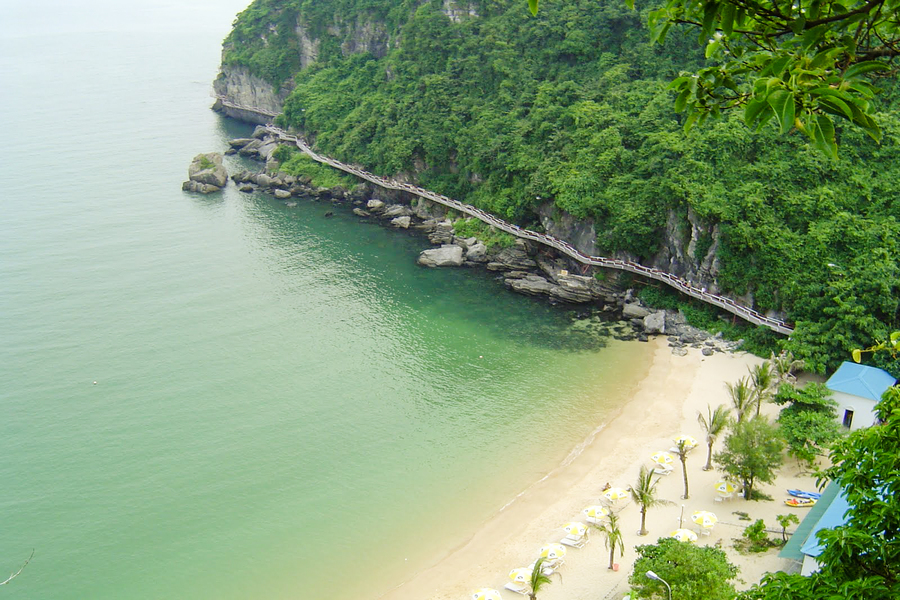 Cat Ba is the largest island out of all of the 366 islands on Lan Ha Bay. This is a famous tourist spot that attracts visitors with its natural wonders and stunning landscapes. And Cat Co beach is a place you shouldn't miss once visiting Cat Ba island. Breathing in the fresh air from the sea, you will feel comfortable. And a day on the beach will refresh and bring out your tired.
Cat Co beach is separated by a small hill so visitors can climb over in about 20 minutes. However, visitors can take the route along a new wooden seaside walkway around the mountain.
The mountain adjacent to Cat Co beach has a tunnel and fascinating caves and grottoes, such as Hang Luon, Trung Giang, Khe Sau, Gia Luan and Kim Cuong. It is an experienced adventure, discovery and the wonder of nature's many mysteries by a visit to the grottoes and caves.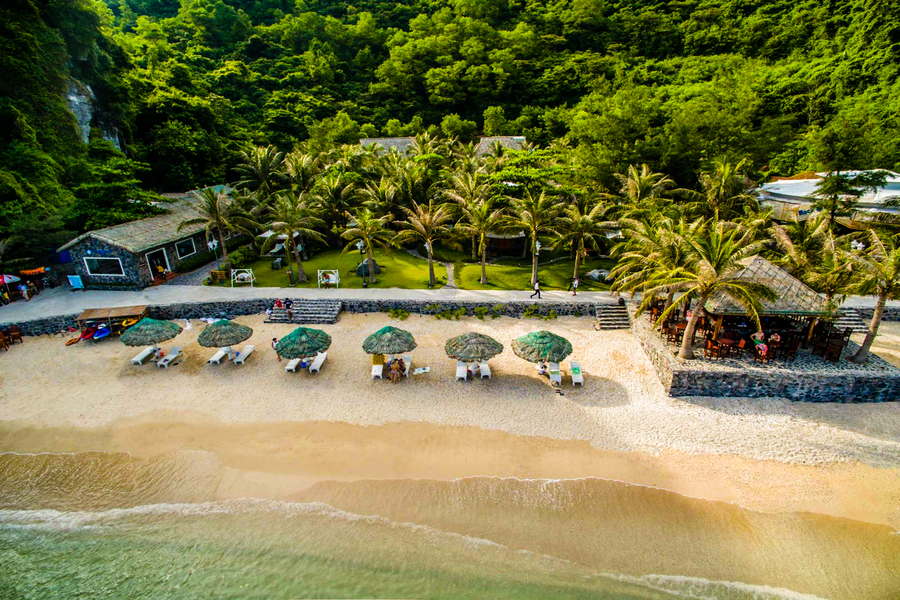 In addition. the animals living on Cat Ba National Park are diverse with 69 types of birds, 20 types of reptiles, the rare white-headed langur, and 20 types of animals.  Then, spend some time to enjoy the sunset on Lan Ha Bay. On the golden background of the horizon and the dark blue of the sea, the islets transform and their slow breathing lives with the music of the sea, white seagulls soar over the island, and sea eagles dance over the heavens. All these beautiful works of nature leave visitors wanting discover more and more. So, Cat Co beach is a tourist spot, attractive with natural beauty.
Travel guide:
Chairs swim buoys, and umbrellas are for rent. Visitors can also eat dinner on the beach with a delectable menu created by experienced chefs.
Numerous water sports are available.
Sauntering or watching the beach on the bridge in Cat Tien.
Visit Hai Thanh, Thot Islet, and Guoc Islet.
Exploring the myriad of islands by cruise ship or kayak.