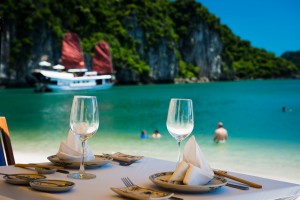 BBQ on a Private Beach: Paddling around the islands then stopping by a wild beach to enjoy seafood barbecue is your sophisticated moment in your cruise with starlight. Enjoying fully the feeling that you are the only people with a fabulous meal on your own private beach in one of the heavens on Earth.
Starting with a glass of wine and proceed to enjoy an array of succulent, grilled seafood. The melodious melody of the waves and blue sky will get paradise close to you.
If wishing this service for your holiday trip in Halong Bay – Please make contact us. because BBQ on a private beach available for charter cruise only.
Starlight BBQ on a private beach
Starlight Halong Bay Cruises provide you the facility for BBQ on a private beach and are consider the best cruises all over the Vietnam. Vietnam cruises are considered for their luxuriousness and the fully designating services.
In Vietnam, the cruises are considered the best convenience for exploring the nature.