There's something magical about a Starlight Halong Bay Luxury Cruise. Launched in April 2013, our elegant ship combines all the benefits of a picturesque cruise, with the wonder and excitement of a mythical location, rich in heritage and tradition.
With an area of 600 m2 per deck (57.5m x 10.5 m, 4 decks), Starlight has more space than many of the cruise ships on Halong Bay. With 30 luxury Cruise cabins and 2 suites, our ship has all the amenities of a fine hotel—2 restaurants and bars serving fine cuisine and drinks, and a wine cellar stocked with a variety of international wines. There is also a massage parlour, recreation area and a spacious sundeck.
When you cruise with Starlight Cruises Halong Bay, we do our very best to make every moment a special one. Our hospitable crews make it their mission to offer all passengers the journey of a lifetime in a relaxed and friendly atmosphere. Join us and discover why we have such an outstanding reputation. Leave the pampering to us. All you have to do is check in, enjoy the 2 day cruise and take in all the excitement and beauty that Halong Bay and a Starlight Halong Bay Luxury Cruise have to offer.
While nothing can compare to the beauty of Halong Bay outside of our ship, the inside of our ship is pretty spectacular too. Starlight Halong Bay Luxury cruise ship features 32 luxury cabins, all fully equipped, and offering the most magnificent and expansive views of the Bay—definitely some of the most breathtaking scenery you will ever lay eyes on. When you are not enjoying the many comforts and conveniences of your cabin, join us in the restaurant for a true dining experience, or on the panoramic sundeck where we offer plenty of activities to keep your mind and body energized. Of course, the beauty of Halong Bay all around you may be a little distracting, so we apologize in advance if our magnificent environment throws you off your game.
Starlight Halong Luxury Cruise cabins are elegantly decorated and offer all the amenities of home. Each spacious room offers a luxurious bed with the finest linens, for a peaceful sleep. In addition, each cabin on our remarkable ship offers exceptional views of the bay. Recognizing that the views are constantly changing, we've left no stone unturned to ensure that you don't miss a thing—even the bathroom has a view which you can enjoy from your private two person jacuzzi.
Yes, every aspect of this Starlight Halong cruise is luxurious.
STARTING AT $191/ NIGHTDELUXE CABIN
Each of the 12 spacious deluxe cabin on Starlight Cruise, wood-paneled cabins has been luxuriously designed for the comfort and enjoyment of our guests. The beautifully presented furnishings in each 22 sq.m cabin are influenced by traditional Vietnamese culture and comprise a collection of authentic, handmade art from different regions throughout VietnamAll the rooms onboard Starlight Cruise have been tastefully designed with shiny wooden floor and ornaments and furnished for the utmost comfort throughout the cruise.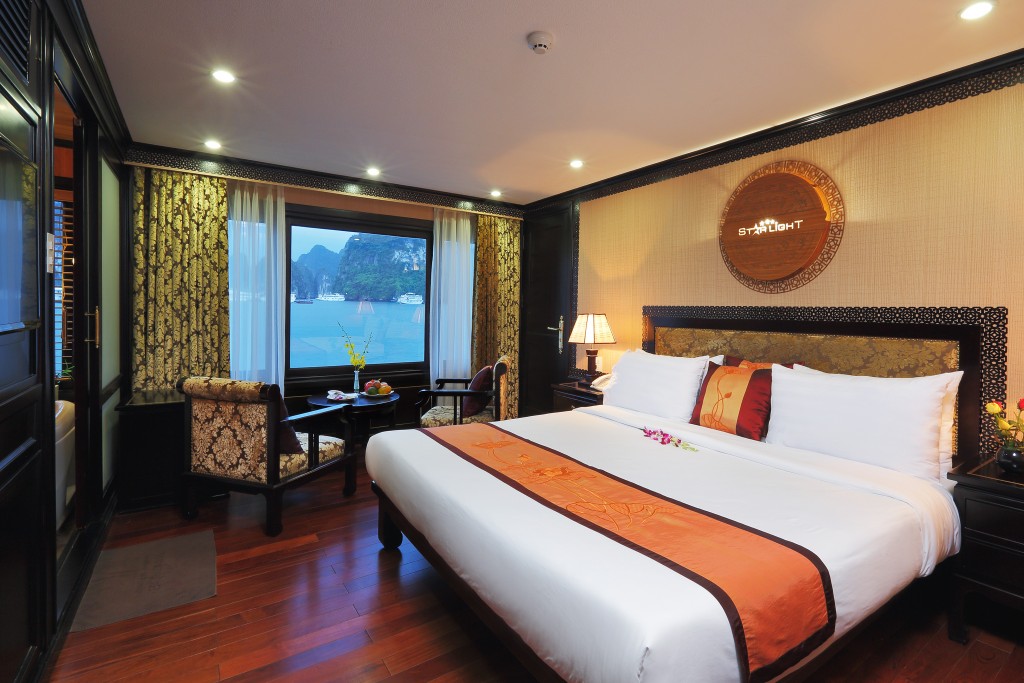 STARTING AT $221 / NIGHTEXCUTIVE CABIN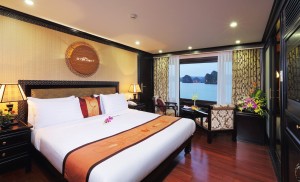 Located on second deck of our cruise, Executive cabin offers the view from the window inside cabin to get the view of the bay's landscapes. With 18 cabins total, we bring travelers the best view of the natural landscapes with the area of 22 square meters for setting your exotic throughout the bay.The cabin features all the amenities as a luxury hotel with a large bed, a cozy sitting area with many other amenities. The cabin offers a mattress for family maximum 3 people.
STARTING AT $242 / NIGHTTERRACE SUITES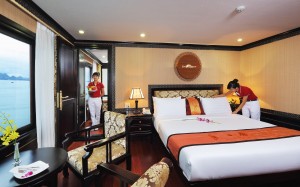 It is great to get the feelings of calm and luxury in Suite cabin with balcony. Situated on third deck and also the largest cabin on cruise, Suite cabin with 55 square meters offer a very comfortable bed and cabin with furniture of a large bathroom equipped with Jacuzzi plus a large window for having the oceanic views while you are relaxing.
A perfect cabin on board at halong bay for a memorable trip..
PRICES/ CABIN FOR 2 PEOPLE
Deluxe Cabin
$382
Excutive Cabin
$442
Terrace Suite
$484
Inclussion
Trannsfer hanoi round trip
yes
All meals on cruise
yes
Entrace fees
yes
Kayaking
yes
service charge
yes
THE BEST WAY TO SOAK IN THE SUN AND SURROUNDINGSSTARLIGHT CRUISE SUNDECK
We're saving a seat in the sun for you. The best place to see Halong Bay is right up on the Starlight Halong Bay Luxury Cruise sun-deck where the view is breathtaking and the ever-changing landscape is mesmerizing. Make sure you have your camera ready so you can take lots of pictures while you socialize with new friends and discover all the beauty that this gem of a location has to offer. Savor every moment—enjoy a refreshing cocktail as we pass unbelievably beautiful rock formations. Soak in the sunlight by the pool or gazing out onto the crystal clear water of the bay. Enjoy this adventure of a lifetime. You deserve it.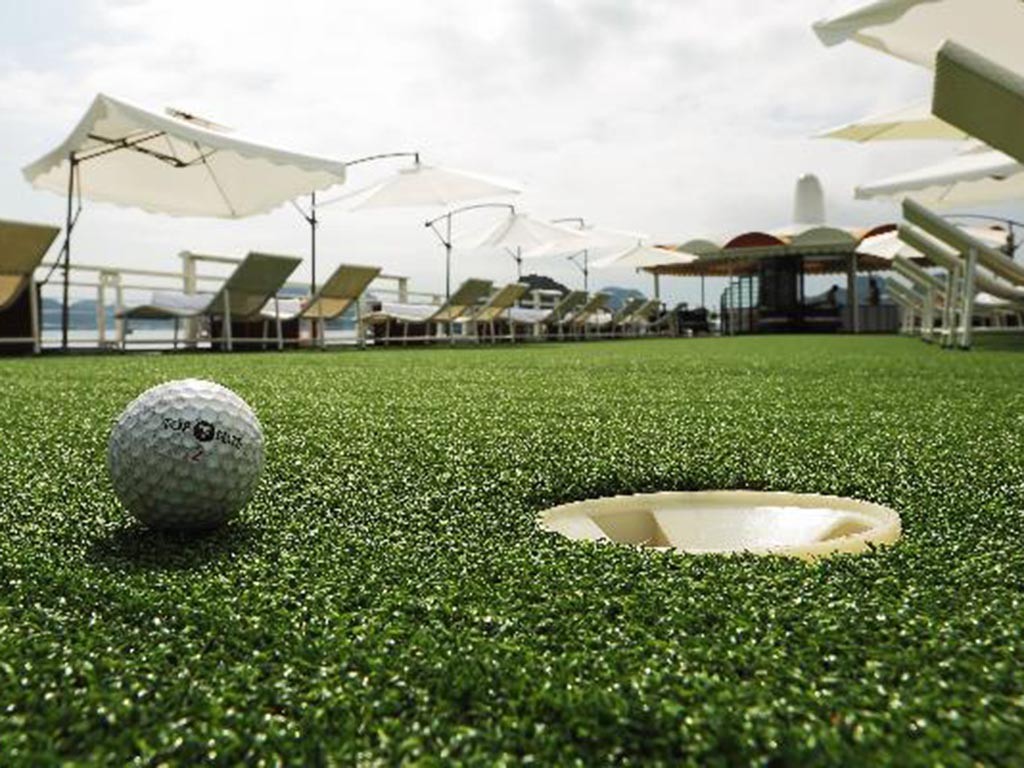 HALONG BAY LUXURY CRUISES ACTIVITIES
JOIN IN THE FUNS!
Everyone has their own idea of what a vacation should entail. If you are energetic and like to participate in activities, we've got just what you are looking for. From rock climbing, to swimming, snorkeling or kayaking in the crystal waters of Halong Bay, we'll make sure the fun never stops. If you are celebrating a special occasion such as a birthday or honeymoon, there's nothing we would like more than to make the occasion even more special. Halong Bay Luxury Cruise love to celebrate and it shows! Join us for Halloween, national holidays, Christmas or New Year and we'll make sure the day is even more memorable. On a Starlight Halong Bay Luxury Cruise, the celebration never ends!