[CP_CALCULATED_FIELDS id="2″]
Thien Canh Son is a rather unspoiled cave in the North of Vietnam. It's located in the Cong Do Conservation Area of Bai Tu Long Bay. Also it's one of the most attract cave for all visitor cruise to Bai Tu Long Bay. Thanks to the natural beauty, pristine limestone stalactites and beautiful surrounding scenery.
How Thien Canh San Cave is special?
Thien Canh Son is one of the majestic caves in Bai Tu Long Bay of Halong Bay complex. It is easy for you to choose a cruise travel to Bai Tu Long Bay and it usually has in the cruise itinerary to discover its beauties.
1. Location
Thien Canh Son cave Vietnam located on Bai Tu Long Bay, in the center of Cong Do island. It attracts tourists by a rare natural beauty, pristine limestone stalactites and beautiful surround landscape.
To visit this cave, visitors must walk up about 100 stone steps, placed under the foliage and craggy cliffs which gives a new feeling as climbing on the heaven gate's side.
2. The beauty of Thien Canh Son cave
Thien Canh Son cave has a natural beauty, pristine limestone, and beautiful landscape. Therefore, it attracts so many visitors discover. Booking a cruise trip through a cruise company is the most convenient way to discover the cave because it includes on its route.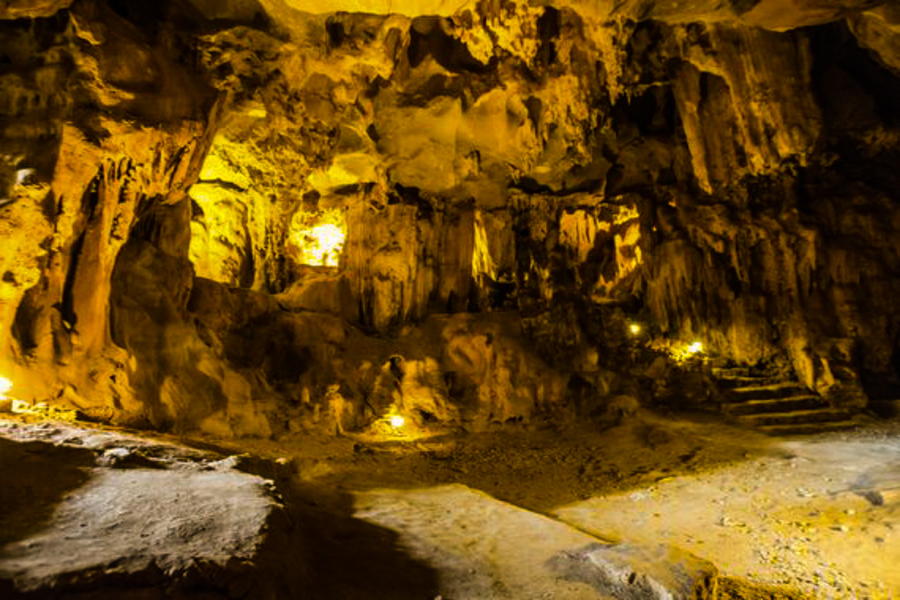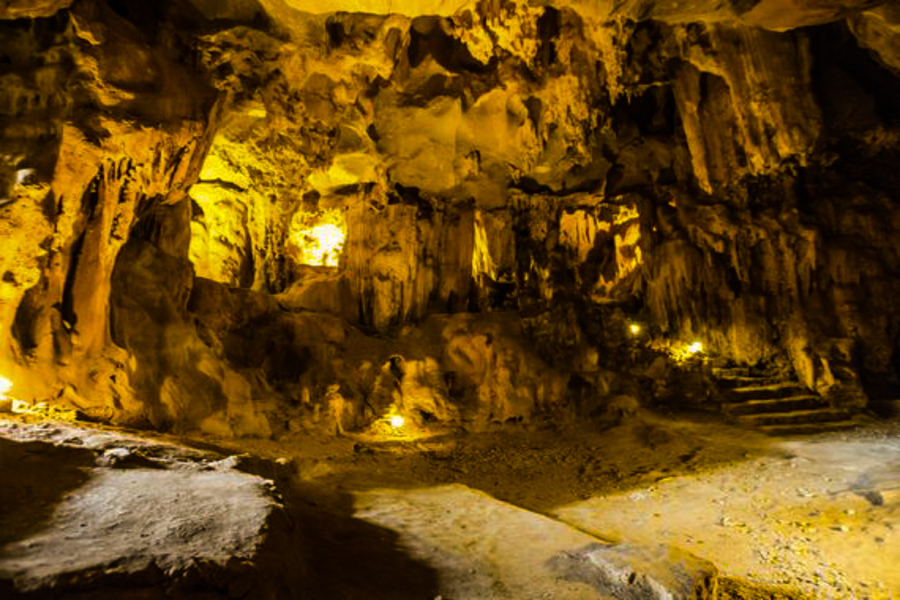 The visitors will walk up 100 stone steps, under the foliage and craggy brings in a feeling like climbing toward heaven. The entrance to the cave is small. However, when step inside the cave, the visitors will amaze about mysterious beauty of the cave. The ceiling shine covered with thousands of glittering stalactites, dome wavy creates the unique image: the stone statues, stone dragon, and flowers are likely to make an ideal world.
Thien Canh Son cave unlike Sung Sot cave in Halong Bay, it is smaller and far less crowded with visitors. However, the cave doesn't lack anything in terms of structure and things to see. In addition, the visitors will admire the beauty of Halong Bay and Bai Tu Long Bay from above. It's a nice place to shoot beautiful photos. On the foot of the cave, there is a beach with blue seawater and white sandy beach. This is an ideal place for relaxing and swimming.
The cave is very famous for organizing dinner in the cave with some cruises in the previous time. In fact, many Halong Bay tours operators used to organize fancy candle dinners inside the cave for the cruise highlights. However, due to a few unfortunate incidents of damage to the stone structures and because of a general move to preserve the integrity of these ancient formations, Thien Canh Son cave dinner has been banned.
3. A destination of Starlight cruise Halong Bay
Thien Canh Son cave offers a wild and mysterious beauty. Therefore It is one of the main destinations in Starlight cruise's itinerary. This place promises to bring visitors memorable moments. Starlight cruise Halong Bay guarantee to provide customers with the best services and experiences with the most reasonable prices. Come to Starlight cruise here to have a perfect holiday.