A great flight deal to Noi Bai international airport Hanoi and start a journey to discover Vietnam with Hanoi capital city and surrounding with much amazing. After exploring Hanoi city with many beautiful landscapes, you shouldn't miss the special Halong bay – UNESCO World Heritage.
Starlight cruise is one of the luxury one to discover Halong Bay and Bai Tu Long Bay. Actually, you can book a day cruise or overnight cruise when you visit Halong bay from Hanoi. However, you should spend more days to explore many the beautiful sceneries there. Ideally, you should choose 3 day cruises with amazing Starlight cruise Halong Bay.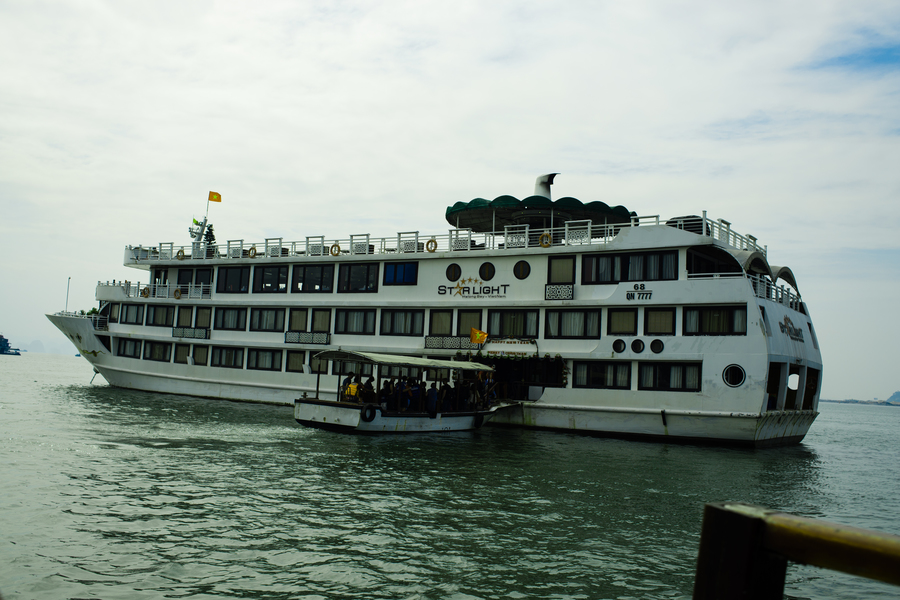 In fact, you will have a great time in Bai Tu Long Bay with expose to both the famous and off-the-beaten-path spots in the bay.
A Starlight Cruise is a great experience in Halong Bay
 #1: Pre- travel guide
How to get to Halong Bay from Hanoi?
After landing at Noi Bai international airport, you take a bus ride to Halong Bay which spends 4 hours one way. Besides, you can choose to fly directly to Cat Bi international airport in Hai Phong which just 2.5 hours car ride away from Halong city.
Shuttle service of Starlight cruise
If you book a room on Starlight cruise, Starlight cruise has shuttle bus daily pick up and drop off from your hotel in Hanoi to Halong Bay and get on board. However, please note that shuttle bus only picks up and drop off at hotels around Hoan Kiem Lake and in Hanoi Old Quarter. The schedule time is around 8.00 am to 8.30 am. The trip will end at noontime in Halong and return Hanoi around 16.30 pm.
#2: The cruise and package tours
The cruise
Starlight cruise Halong launched in April 2013 with 30 luxury cabins and 2 suites balcony cabin. The board also has:
2 restaurants and bars service fine cuisines and drinks.
1 wine cellar stocked with various international wines.
Spa room
Recreation area
Special, Starlight cruise is a choice for couples to hold a wedding or honeymoon.
The package tours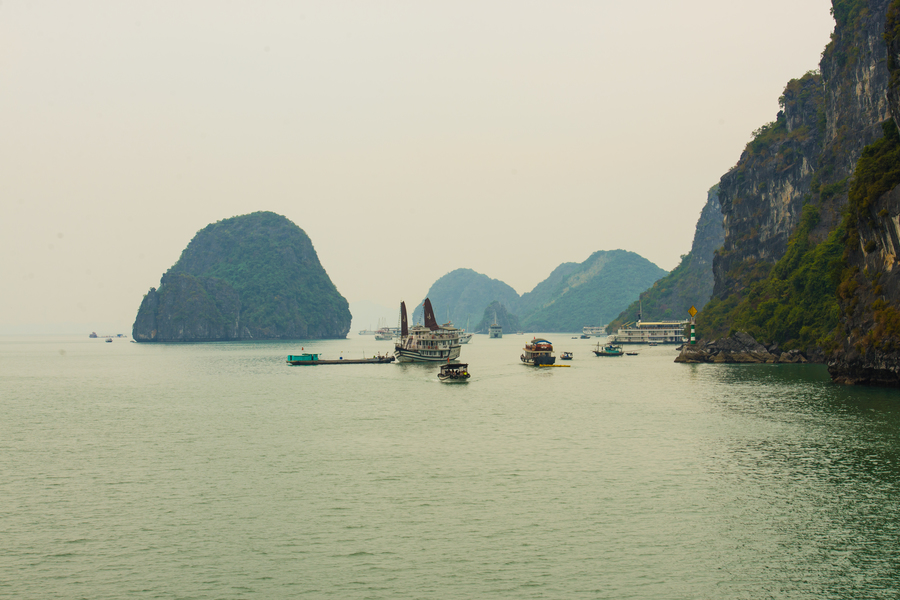 Now, Starlight cruise offers 6 package tours:
Spectacular 2 days 1 night cruise Halong Bay and Bai Tu Long Bay.
Hanoi – Bai Tu Long Bay – discovery every corner of Lan Ha Bay.
Travelers have the chance to discover Halong Bay and Bai Tu Long Bay on our luxury Starlight cruise 2days/1night on the wonderful bay to admire the marvelous natural beauties in Vietnam and have 2 nights stay in Hanoi.
Travelers have the chance to discover Halong bay on luxury Starlight cruise 3days/2nights to admire the marvelous natural beauties of 3 beautiful bay in Vietnam (Halong Bay, Bai Tu Long Bay, and Lan Ha Bay) and have 2nights in Hanoi
Experience and enjoy amazing landscapes along famous destination in King Kong film of North Vietnam to Halong Bay, Ninh Binh with impressive sceneries at Van Long Nature Reserve.
An amazing trip in North Vietnam in 7 days/6nights with the deeply fascinating and beautiful landscapes from the mountains to the sea.
Note: The prices may change by season and food and water equipment, transfer to and fro your hotel will also be provided (Airfare and visa costs are not covered).
#3: The staff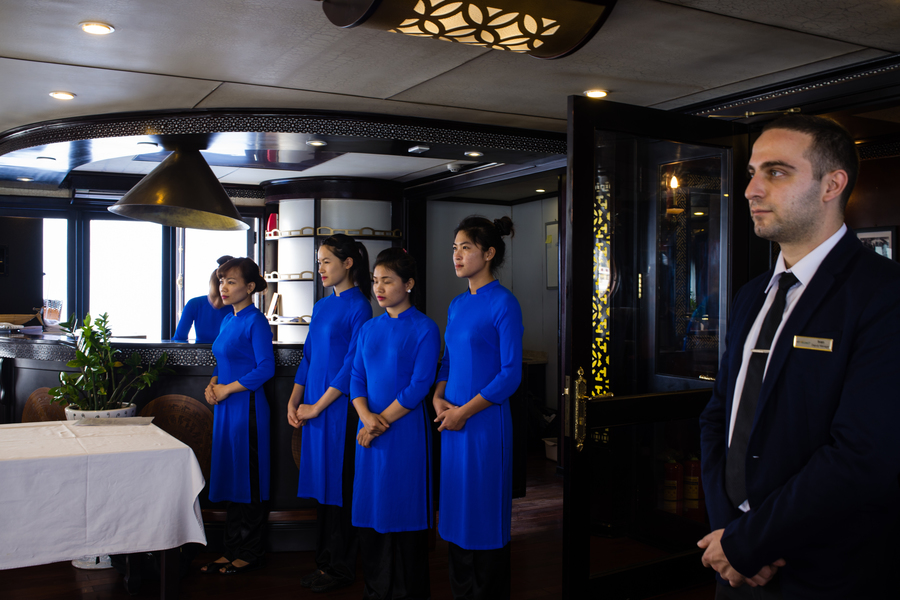 Starlight cruise has English speaking staff. Therefore, you shouldn't have any worries about that. They are very hospitable and enthusiastic.
The guide is great, offer a lot of information of every place that you visit. And if you ever have any problems, they will always help you in order to make your stay as comfortable as possible.
# 4: The activities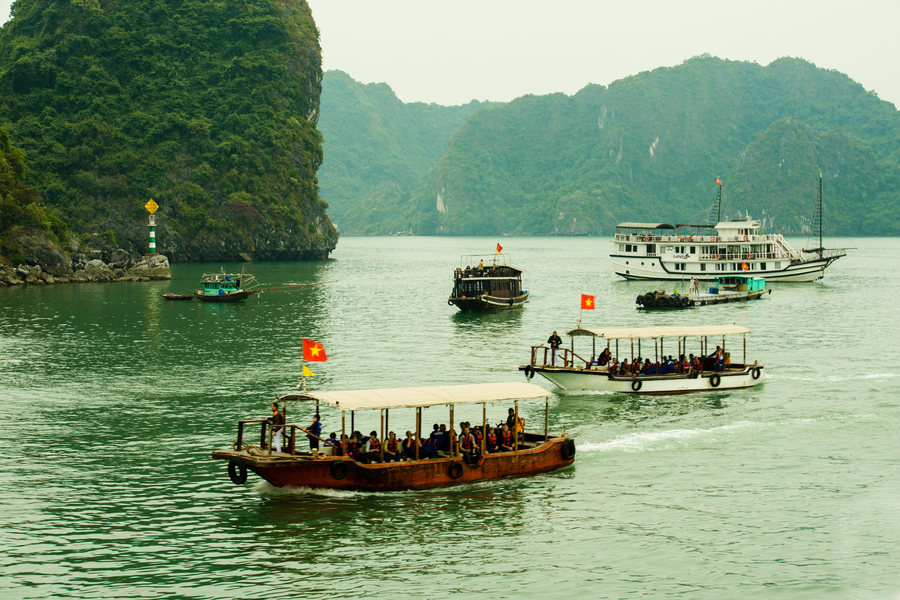 Depending on the package tour you choose, there will be interesting activities in Halong, as:
Visit Thien Canh Son cave – the most beautiful cave in Bai Tu Long Bay.
Enjoy the sunset and relaxing with Jacuzzi.
Try mini-golf on the top deck
Take part in a cooking demonstration and food décor with Starlight cruise's chef.
Join squid fishing with the crew, sing karaoke.
Take a bamboo rowing boat trip around Vung Vieng fishing village, etc
Make a memorable trip to Halong Bay with Starlight cruise at sales@originvietnam.com or hotline: +84 129 909 8686.