Top things to know before Halong bay travel
Halong Bay is recognized by UNESCO as the World Natural Heritage Site, is one of the most impressive and unique destinations in the world. We would like to suggest travelers useful information below so that answer Halong Bay FAQs. This information will help travelers have a wonderful trip to Halong Bay.
When is the best time to travel to Halong Bay?
Located in North Vietnam, Halong Bay has 4 different seasons and can travel and visit all year round
Spring is warm
The spring is from January to March which is warm. Although there is still the possibility of rainy and foggy, the fog is not as thick as in the winter. It is also a nice chance to discover Halong Bay with hidden and show scenery of thousands of islands and islets. It gives you a charming picture which cannot see other places. All day has the sun shines and the water is calm for you to kayak or have many other activities.
Summer with hot and moist
Summer in Vietnam is from April to June. However, in Halong Bay will last until August and September which brings the clear views of the bay which the sun all day from early morning till 7 pm. With the summer weather, travelers can get the views of stunning islands as well as be swimming in seawater comfortably and clearly. No better time for sunbathing on the sundeck or on the beach, kayaking this season. On June and July sometimes have typhoons on sea so the cruise trip in Halong Bay can be affected by cancel or delay.
Autumn is cool
Autumn is cool and it is a perfect time for sailing in Halong Bay. The temperature is not over 27°C so you can enjoy the cool climate this time. Since October is the ideal time to make a cruise trip to Halong Bay because the wonderful climate this time enable you to join many activities
Winter is cold and dry
The winter starts in Halong Bay in November and it is colder than in January and February. The temperature is sometimes lowest around 8°C and not over 20°C. But if you are lucky, there are some days have sunny and the temperature is high as autumn or summer. On winter and cold day you cannot swim, but you still enjoy many other activities which cruise offers. It will be a magic when there is thick fog and give you deep impression this season. And winter is also a peak time in Halong Bay so if you wish to travel you should research and book a cruise for a long time to have room as your wish especially on December
In general, the best time to travel in Halong Bay is from April to October while the weather is nice.  However, it will give you another impression and fanciful scenery if traveling in the winter time.
How to travel to Halong Bay?
Shuttle bus
Halong Bay is about 150km from Hanoi city. It takes around 3.5 hours on the car and this is the popular way to Halong Bay.
Most of the cruises in Halong Bay have shuttle bus daily from Hanoi to Halong Bay and vice versa. Therefore, you can combine Hanoi and Halong Bay trip, check this program.
This is the tourist bus, not local bus station of government. Therefore, base on the level of cruise you choose to travel, it will have from luxury to standard bus, but all guarantee for tourist quality. You can choose travel one-way bus or return according to your schedule arrives in Halong Bay.
The shuttle bus leaves Hanoi around 8.00 am and return 12.00 pm from Halong Bay. And shuttle bus only picks up and drop off at your hotel (hotel must be in Hanoi Old Quarter and around Hoan Kiem Lake). Your hotel isn't in this area, you must take a taxi to the meeting point or cruise office to travel.
The shuttle bus cost base on each cruise, but it is around 10 USD/person to 40 USD/person if limousine bus
Private car
When you arrive at Noi Bai airport in Hanoi city and continue the trip to Halong Bay, the best way is a private car with a driver. And the flight arrives in Noi Bai airport not later than 8.30 am because the cruise schedule leaves the harbor in Halong bay around 12.00 pm.
Except you travel on a private cruise, the time is flexible
Railways
Another way travel to Halong bay is Railways. You can choose Halong Express train which departs from Gia Lam Railway Station to Halong city. The cost is around 20 USD/ticket
If you do not travel to Hanoi city, Hai Phong airport is another choice if the traveler from Danang, Nha Trang or Ho Chi Minh city for Halong Bay cruise trip.
Hai Phong is about 70km from Halong Bay. And the best way you take a taxi or private car to travel to Halong Bay.
Seaplane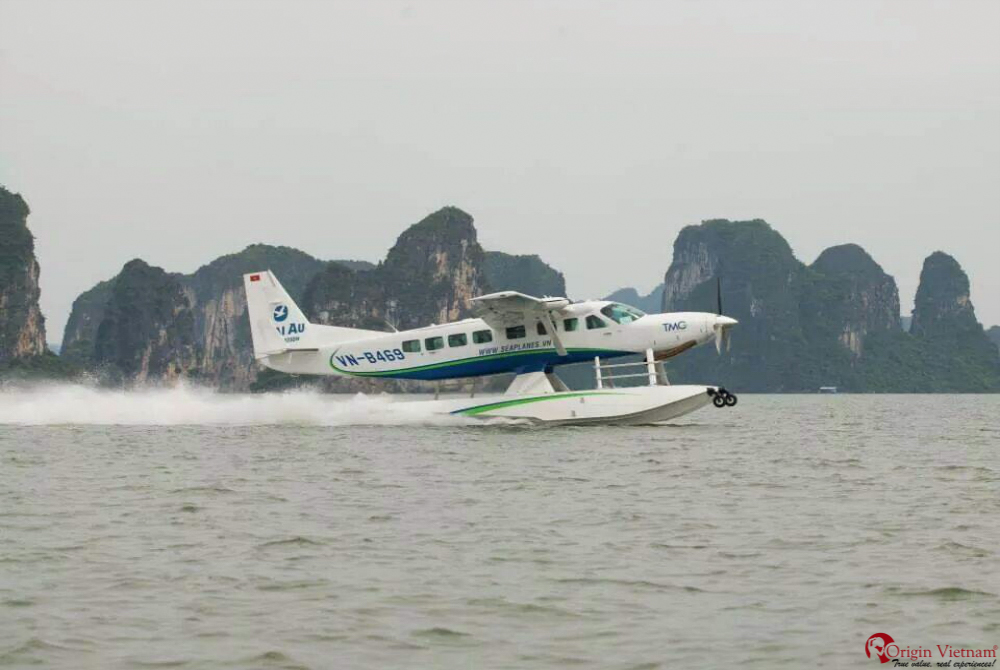 The seaplane is a wonderful choice for viewing Halong Bay from the sky. You have 2 choices for traveling by seaplane. You start from Noi Bai airport and the trip takes 1.5 hours. However, when you are in Halong Bay already you can choose 25 minutes scenic from Tuan Chau Island and back the same island. The seaplane can hold 12 passengers and spacious windows for viewing. It ensures a memorial moment in Halong Bay from the heights 150 to 3,000meter of the sea level.
Halong Bay shopping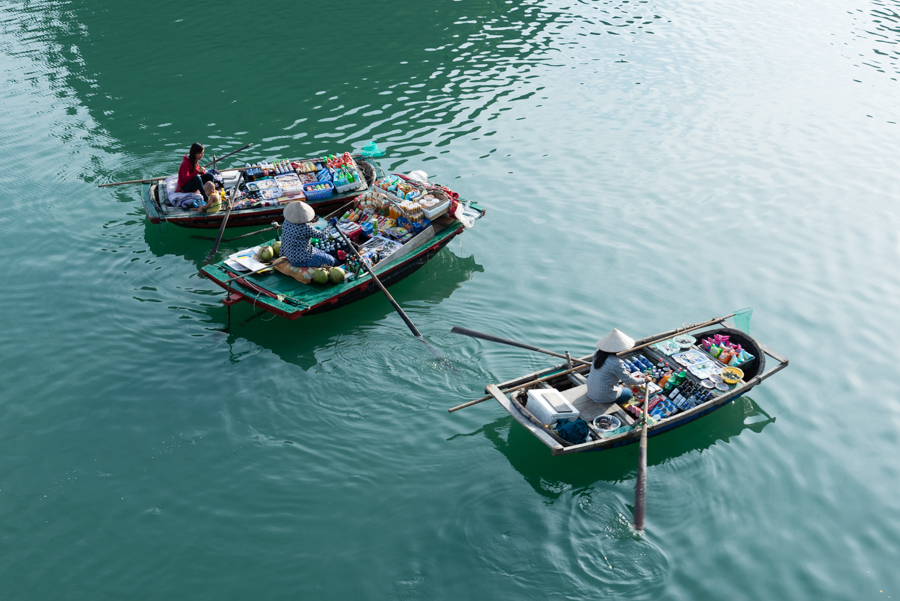 Although there are limited options for shopping in Halong Bay, what is actually available can be very interesting. There is night market in Bai Chay Town. There are many small open-air stalls with good collections of Vietnamese products. They are famous traditional Vietnam such as Ao Dai, ceramic tea sets, chopsticks, conical hat, etc. It is recommended bargaining 30 – 50% of the original cost offered. Most shops accept USD dollars, Europe, Australia dollars as well as local currency Vietnam dong. Also, there is shopping from small floating shops on the bay. It is the chance for you to learn about local culture and society.
Special foods to try in Halong
Halong bay is a sea area so its special food is seafood. It is one of the memorial experiences is to enjoy local food. There are many varied cuisines with seafood in Halong bay which tourist should not be missed
Squid Sausages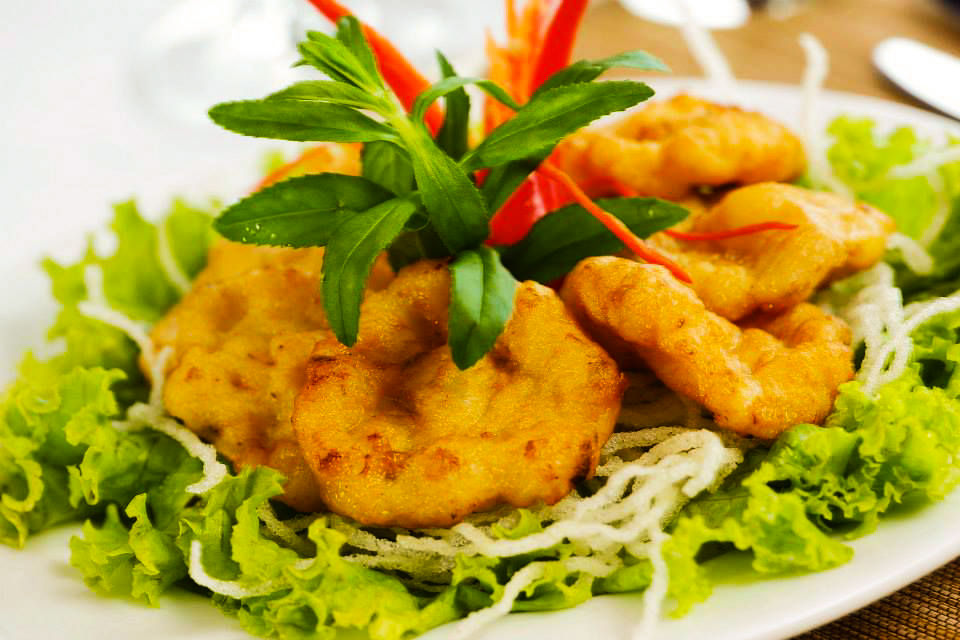 Firstly, we can not fail to say Squid Sausages. This well-known specialty is processed with fresh squid. What made particular taste to fried squid is the arms pounding method, as an alternative to grinding as many different locations. After tasting spices, the patties are fried in a pan with boiling oil. It makes the squid sausage extra crunchy and charming. Regardless, the comparatively excessive worth is 300.000 – 450.000 VND per kg. However, vacationers are nonetheless trying to purchase out there once they come right here.
Ngán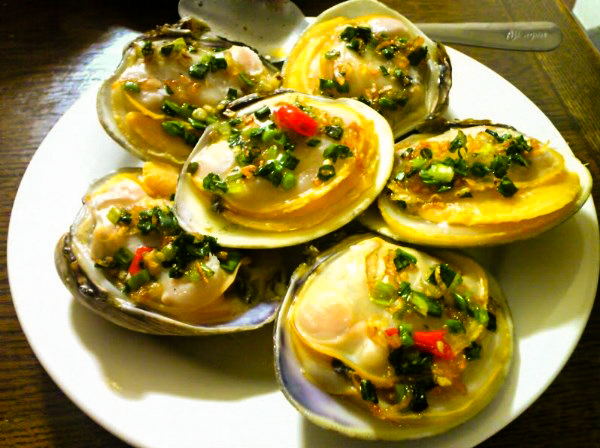 You additionally ought to try to taste ¨Ngán¨. You may be shocked with its identify meaning ¨boring¨ in Vietnamese. Nonetheless, it's thought-about as essentially the most scrumptious dish in Halong. ¨Ngán¨ is a mollusk with bivalve-like clams. It may be processed by numerous methods: grilled, steamed, cooked soup, fried with noodles or greens. ¨Ngán¨ will also be used to make wine. The wine which is processed by ¨Ngán¨ has its personal scent from the ocean. If you want to purchase recent ¨Ngán¨ or wine, you possibly can go to Cai Ram market, Vuon Dao market.
Sá Sùng
It is vitally unusual if you end up hearing about Sa Sung – a form of sea worn. It lives deep in the sand and solely in Quan Lan island (Quang Ninh Province). So it is a fairly costly dish in Halong Bay. Recent ¨Sa Sung¨ could be stir-fried with garlic or dried, grilled, roasted to eat with consuming alcohol. As well as, it is usually used to make spices for noodle soup.
Snail
One other well-known seafood dish in Halong is Snail. Halong has a wide range of snail in order that in the event you hear about it. It's important to ask to repeat or want a pen and paper to write because of it difficult to remember. They are hương snail (Taste), đĩa snail (plate), vặn snail (twisted), Gai snail (prickle), … Served with snail is the particular sauces to make that dish extra tasty.
Tu Hài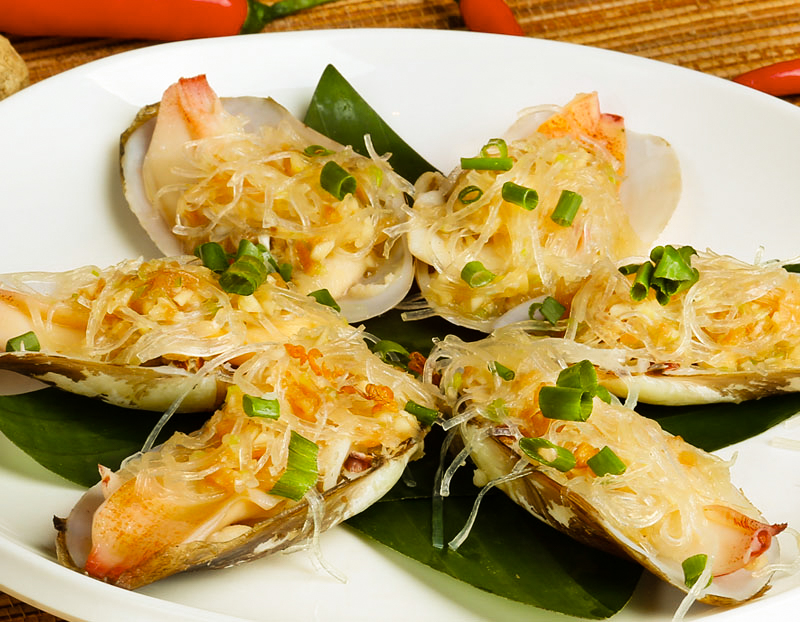 It's a pity whenever you travel to Halong Bay without tasting Tu Hai. Once you taste it, certainly that you'll not forget this special taste of this seafood. Tu Hai will be steamed, make the salad, cooked soup, grilled….. The appetizer with steamed Tu Hai has cool and candy style. It may be mentioned that that is probably the most scrumptious, nutritious dish.
It may be mentioned that Halong is the place in which nourish the variety of rare and valuable seafood. Choosing Halong is the vacation spot on your great journey, it is a great to get pleasure from much special seafood bestowed for Halong by nature.
Have you learned Halong is the vacation spot that the well-known Hollywood couple has chosen for his or her journey? So why you haven't but gone on Halong excursions – Certainly one of Seven wonders on the planet along with your like them journey companion – Origin Vietnam or make contact at sales@originvietnam.com to recommend.